PERIPHERAL NEUROPATHY BREAKTHROUGH
"I had extremely sore feet, poor balance and could not sleep through the
night due to pain. I started neuropathy treatment 10 weeks ago and the
changes have been marvellous. The pain in my feet is almost gone, I'm
walking a mile every day without pain and I am sleeping well. If you have
neuropathy, this treatment could change your life. It works!"
- John M. Breckin, ON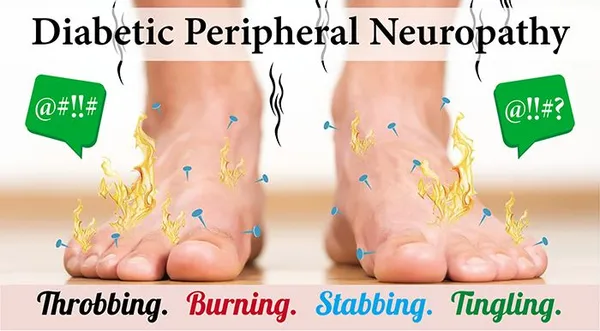 Do you feel like you are walking on pins and needles?
Are you experiencing numbness & tingling in the hands or feet?
Are your activities limited by burning, weakness and pain?
There is now a new treatment for Peripheral Neuropathy at Better Life Chiropractic
Imagine life without the debilitating pain of Peripheral Neuropathy

Are you experiencing numbness, tingling, and weakness or burning sensations in your hands and feet? If so you may have a condition called peripheral neuropathy. There are many health reasons why peripheral neuropathy develops, such as chemotherapy, diabetes and pressure on the nervous system.
Neuropathy develops due to damage to the nerves often causing weakness, pain and the most debilitating balance and mobility problems. This damage is often caused by the lack of blood flow to the nerves in the hands and feet causing those nerves to begin to degenerate due to lack of nutrient flow. When the blood vessels that surround the nerves become diseased, they shrivel up and the nerves don't get the nutrients to continue to stay healthy and survive.
Chiropractic treatments have proven effective in helping to remove the pressure on the nerves. However, in addition to traditional chiropractic treatment, I am now introducing breakthrough Nobel Prize winning NASA developed therapies to give my patients more therapy to reverse the damaging effects on the nerves by increasing blood flow and stimulating small fiber nerves.
To effectively treat your neuropathy, three factors must be determined:
1. What is the underlying cause?
2. How much nerve damage has been sustained?
3. How much treatment your condition requires?
This new treatment will:
1. Increase blood flow
2. Stimulate small nerve fibers
3. Decrease pain and suffering
The amount of treatment someone needs for recovery varies and can only be determined by a detailed neurological and vascular evaluation. As long as you have not sustained more than 85% nerve damage, there is still hope.
Book your complimentary neuropathy severity consultation today
No form settings found. Please configure it.